Wanting to stay active, but …
Sometimes you are doing your best to get into healthier habits yet your body doesn't want to cooperate. Often we assign the sensations to being out of shape, needing to try harder, or being more consistent. Sometimes there is something basic, yet overlooked. Here's an example.

Sound familiar?
I had the pleasure of meeting with Zach, a local actor, who wants to work out more to enjoy both the health and mental health benefits.
Good plan. One hitch — he gets migraines and his legs tend to swell and feel odd when he tries to run. If Zach was older, he might rationalize age as causing his challenges. But he's only 28!
What else might be impacting his ability to be active?
As part of the Bridging® process, we consider how past traumas may have caused lingering effects on how the body's structure functions. In Zach's case, he had an injury 9 years ago which seems to be a major contributor to his issues.
Recovery from a traumatic event often needs more than healing, stretching, and strengthening exercises. The injured areas often need to be re-introduced and guided to work together with the rest of the body again. This is one aspect of how the Bridging® micromovements help the body to function properly.
In his first session, it was so amazing to hear how Zach recognized the changes in his legs and how relaxed he felt. He should be off and running! We plan to check in again with him later this summer to find out how his legs are doing.
View the entire session 👀
See the entire session with Zach in the latest episode of the Bridging® Insider, our new YouTube show.
__________________________________________
Hidden Effects of Knee Injury — from 9 years ago!
See what we find that ties several of Zach's concerns together, and how quickly they changed!
Cara takes you through each part of a typical session — gathering information, assessing, Bridging® movements, and reassessing.
---
Interested in learning Bridging®?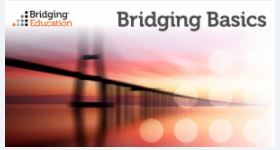 Professionals, want to incorporate the same Bridging® process and micromovements into your work to help your patients faster and more completely?
As seen in the Bridging® Insider videos, you will be able to do the same basic level of Bridging® after this first course.
The next cohort kicks off this September with weekend Zoom workshops in October, November, and January.
You can read more about the course structure, learning objectives and schedule here. Register now and get started on the pre-work right away.
https://bridgingtechnique.com/wp-content/uploads/2022/07/Cara-works-with-client.jpg
500
800
tilpro
http://bridgingtechnique.com/wp-content/uploads/2018/05/Bridging_logo.png
tilpro
2022-07-29 12:17:39
2022-07-29 12:17:39
Old Knee Injury? See the Crazy Ways It Can Impact You