New, easier way to schedule ALL types of appointments
Why and when are we changing our scheduling tools?
As you are able to experience Bridging in more ways, we found different technology was needed to support easy and integrated scheduling, especially for virtual appointment access.
Friday March 19th after 5pm we will be transitioning to a new scheduling system. The new system will be available by Monday March 22nd.
In addition to being able to easily schedule and receive appointment reminders and receipts, we found easily accessing a video link for virtual appointments has become more important. The new system, VAGARO, provides an integrated Zoom link when virtual appointments are scheduled.
Here are answers to most of your questions:
What do you need to do?
For most clients, the entire change will happen without you having to do anything. You will notice emails to confirm and remind you of appointments will look different. That's about it!
If I already have an appointment?
All of your appointment information is being transferred behind the scenes, so everything remains the same.
If I want to schedule online?
To schedule online, you will access a different website, VAGARO, to schedule. You will have to create a new login name and password, but your existing appointment information will be accessible.
If I want to schedule via my mobile device?
To schedule on your mobile device, download the VAGARO app from the app store. Create a new login and password, and you're set to go!
Have questions, or need help navigating the new system?
Give us a call at 847-390-8348. Franziska and Louise are able to guide you through.
---
As a reminder, Kinetic Konnections is now The Bridging Institute.
After 15 years we've moved into our next phase with a new name and more tightly focused mission — helping more people, in more ways.
Our goal at The Bridging Institute remains keeping your body's micromovements optimally organized to self-regulate, focus, and be active for the things you enjoy in life.
---
Bridging Solutions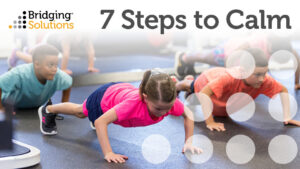 For parents, our first online program, 7 Steps to Calm, is set to debut in March.
This is our first on-demand program, with more to come, featuring a guided structure of movements for you to do at home to help your little ones.
https://bridgingtechnique.com/wp-content/uploads/2021/03/calendar.jpg
801
1200
tilpro
http://bridgingtechnique.com/wp-content/uploads/2018/05/Bridging_logo.png
tilpro
2021-03-12 15:07:53
2021-03-12 15:07:53
March 19th: Changing to New Scheduling System