You and your family know first-hand how much Bridging® has helped —
put your pain in the past,
keep a parent vibrant with improved balance and mobility,
keep family peace with a calm and regulated child, or
catch your little one up with developmental milestones.
We are grateful for the opportunities to keep you and your family thriving and want to ask if you can share the word. The more people who know about Bridging®, the more people who can get help.
Two special opportunities available now are for: (see below for details)
Friends and loved ones whose children (ages 4-10) struggle physically, emotionally, or developmentally despite trying option after option with little success.
Professionals (OT, PT, MT) who are looking for new techniques to help their patients recover faster and more completely.
Help us spread the word about options to engage with Bridging®, either doing movements at home, or learning it for professional use.
They will thank you over and over! … and we thank you!
For Families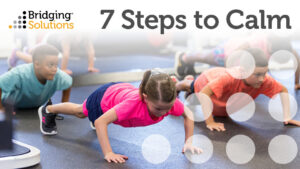 Dreading your child's holiday behavior?
"My son enjoyed the movements. They really helped ground us. As a family, we feel more empowered to have another tool in the parenting toolkit. The videos were easy to follow and the resource information was especially helpful." Mom of 6 year old
Bridging can help, and you can get started right now to begin experiencing calm with just the first lesson. We guide you through movements which you do with your child. These movements help to organize your child's core, which allows them to find their inner calm.
Our new on-demand program features a seven-week structured course of guided movements for you to do at home to help your child (aged 4-10) in just minutes a day.
The first lesson is FREE.
Use the code CALM to save 30%.
For Professionals

Registration is open for the Winter 2022 Cohort
"Video lessons were concise, easy to understand and follow."
Physical Therapist in 2021 cohort.
If you have wanted to learn more about Bridging® … Here is your opportunity! The winter cohort is open for registration, and you can jump in and start learning right away, before we pull it all together in the workshops sessions.
New workshop option — weekdays! These weekday workshop sessions will be Wed/Thurs in 2 hour blocks, over 3 weeks as an alternative to the more concentrated weekend structure.
The added bonus — 33% savings … Sign-up by December 10th for the lowest price available. (IL OT/PT are eligible for 44 total CEU credits.)
The complete schedule, FAQ's, and registration are just a click away!
https://bridgingtechnique.com/wp-content/uploads/2021/12/shell-heart.jpg
532
800
tilpro
http://bridgingtechnique.com/wp-content/uploads/2018/05/Bridging_logo.png
tilpro
2021-12-03 12:58:57
2021-12-03 12:58:57
Asking For Your Help ... to Spread the Word!